I've heard about hybrid cars, like the Prius from Toyota that use a combination of gas and electrical power to run, but until last night I had not heard much about all-electric cars powered by lithium batteries. Hybrid Technologies is partnered with NASA and lots of other folks in creating these cars. One is is a retrofitted PT Cruiser: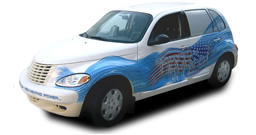 There has been a fair amount in the press about these technology developments recently, you can quickly catch up by watching recent news clips from CNN, Fox News, and others. A few quick stats:
Plug the car into standard 110V electricity and charge for 4-5 hours.
The car will run about 150 miles on a single charge.
Maximum speed: About 100 mph. Some other, sportier models can do about 160 mph, the smallest version 90 mph.
Cost: Over 40K currently, but a lot of that expense is for the lithium batteries.
Hybrid Technologies essentially buys these cars without motors and puts their own electrical motor and lithium battery system in them. This is an expensive automotive "option" currently, but the good news is that we're just seeing the beginning phases of this– and things are sure to only get cheaper and more powerful!
Lithium batteries are used now in most cell phones and laptop computers. This electric car technology may be for early adopters (and the wealthy) now, but as more are produced and the technology matures it should become more affordable for "the rest of us."
This is very exciting stuff. Just think about never filling up at a gas station again for in-town travel! For cross-country travel, gas/electric hybrid vehicles look like the way to go, but a 100% electric car is an even better option for the future as mileage performance continues to increase!
If you and your students are interested in learning more, in addition to the links above check out "How Batteries Work" from howstuffworks.com, PBS's POV Borders Flash movies on environmentally friendly technologies, and Chemical Elements.com's entry for lithium.
If you enjoyed this post and found it useful, subscribe to Wes' free newsletter. Check out Wes' video tutorial library, "Playing with Media." Information about more ways to learn with Dr. Wesley Fryer are available on wesfryer.com/after.
On this day..