I have been wanting to get a GPS unit for a long time– mainly to use for camping and hiking, but at other times too. As a geography major in college and someone who LOVES maps, liked compass work in Scouts, completed and served as an instructor of USAF survival training, etc– I think GPS technology is right up my alley. I am captivated by Google Earth and convinced we are going to see an explosion of GPS related web 2.0 technologies in the months and years ahead. I'm hunting for a GPS unit now, however, and found some good prices at WalMart this afternoon. I'm considering the Magellan Meridian Platinum GPS unit.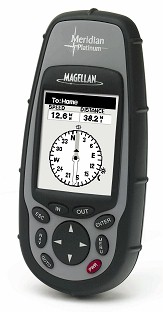 The main factors distinguishing it from other Magellan and Garmin options (at least at our Lubbock WalMart currently) are the fact that it:
Comes with 16 MB of built-in memory and maps pre-loaded.
Has an SD memory expansion card slot.
Can connect to a PC (serial cable) to download additional maps and content.
Has a built-in compass (handy for geo-caching apparently) as well as barometer and thermometer.
Is waterproof.
Although I primarily prefer using Macintosh computers, I do use Windows machines regularly (every day at work) and I have an older computer running XP that I could utilize for map transfers if needed. It doesn't appear that any handheld GPS units (designed for hiking/camping) currently on the market are Macintosh compatible. Of course I've been eyeing the new Intel processor-based Macbooks which run WinXP via parallels or Apple boot camp, but I am not sure if a serial-USB adapter would work on the Magellan Meridian Platinum GPS unit. Even if/when I get a Macbook and there turns out to be compatibility problems with it running WinXP and a GPS unit I buy, I can find a way to work around that…. so that is not stopping my purchase at this point.
WalMart has the Meridian Platinum for $200, which seems like a great deal considering that feature set. The guy in sporting goods said they were about to get in a $900 unit that is just amazing, and will be more expensive than anything else they sell in their entire department (including all their gun models!) I want to get a GPS unit on the inexpensive end, but I would like something that I'm not going to "outgrow" quickly. My budget is in the $100 – $200 range, so more expensive models are definitely out of the picture for me at this point.
I found this helpful review of the Meridian Platinum (a pretty positive one) on the gpsinformation.us site. If you have any suggestions or guidance for me or others who may be considering purchase of a GPS device, please comment here! 🙂
If you enjoyed this post and found it useful, subscribe to Wes' free newsletter. Check out Wes' video tutorial library, "Playing with Media." Information about more ways to learn with Dr. Wesley Fryer are available on wesfryer.com/after.
On this day..